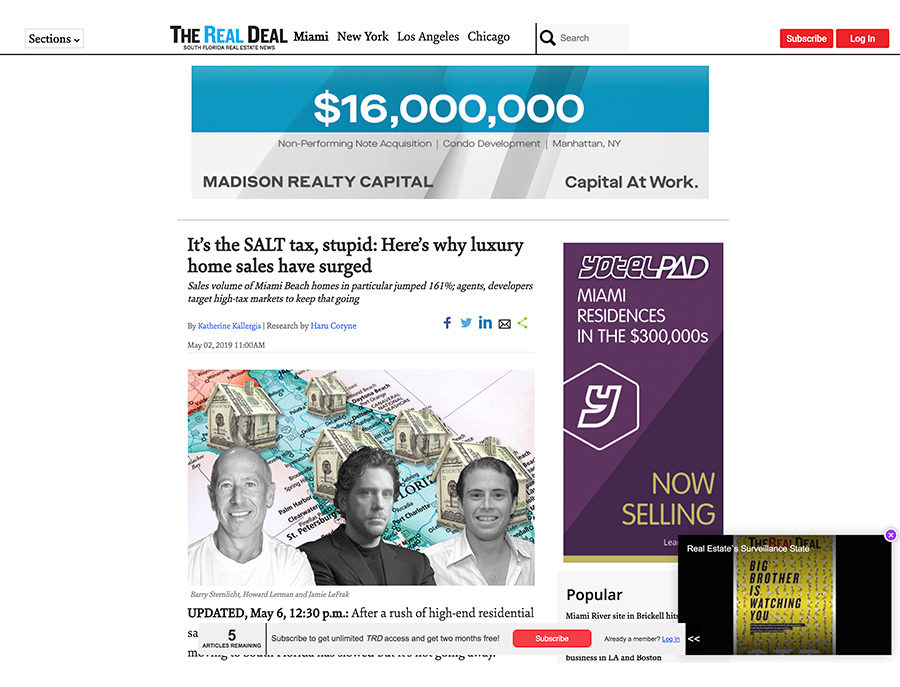 After a rush of high-end residential sales to start 2019, the pace of those so-called "tax refugees" moving to South Florida has slowed but it's not going away.
In Miami Beach in particular, nine single-family homes sold for a combined $120 million in the first quarter, according to The Real Deal's analysis of multiple listings service data. The data tracked all sales on homes $5 million and up. That's a sharp increase from the five homes that sold last year at the same price point last year from January through March.
While the greater housing market has experienced a nationwide slowdown, the appetite for luxury homes in Miami Beach has surged. Sellers and brokers attribute that in large part to the December 2017 federal tax overhaul, which limited the ability of taxpayers to deduct state and local taxes — dubbed SALT — from their income in 2018.
For ultra-wealthy residents in high-tax states like California, New York, New Jersey, Connecticut and Illinois, the savings from living in a state like Florida that doesn't have a personal income tax could be enough to buy a luxury home in Miami.
Developers and brokers are also seizing the moment, going to potential buyers in their state in order to more effectively market those Miami homes.