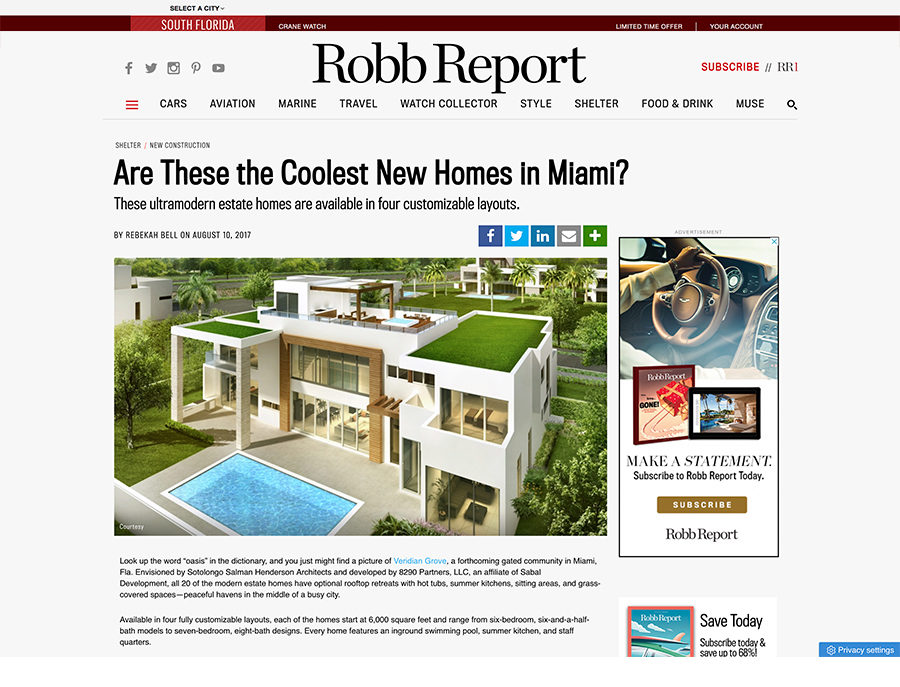 Look up the word "oasis" in the dictionary, and you just might find a picture of Veridian Grove, a forthcoming gated community in Miami, Fla. Envisioned by Sotolongo Salman Henderson Architects and developed by 8290 Partners, LLC, an affiliate of Sabal Development, all 20 of the modern estate homes have optional rooftop retreats with hot tubs, summer kitchens, sitting areas, and grass-covered spaces—peaceful havens in the middle of a busy city.
Available in four fully customizable layouts, each of the homes start at 6,000 square feet and range from six-bedroom, six-and-a-half-bath models to seven-bedroom, eight-bath designs. Every home features an inground swimming pool, summer kitchen, and staff quarters.
Inspired by a European courtyard, the Sequoia concept revolves around the outdoor swimming pool, summer kitchen, and cabana. Inside, the open-concept plan accommodates a gourmet kitchen, sumptuous bedrooms, and an inviting living room.