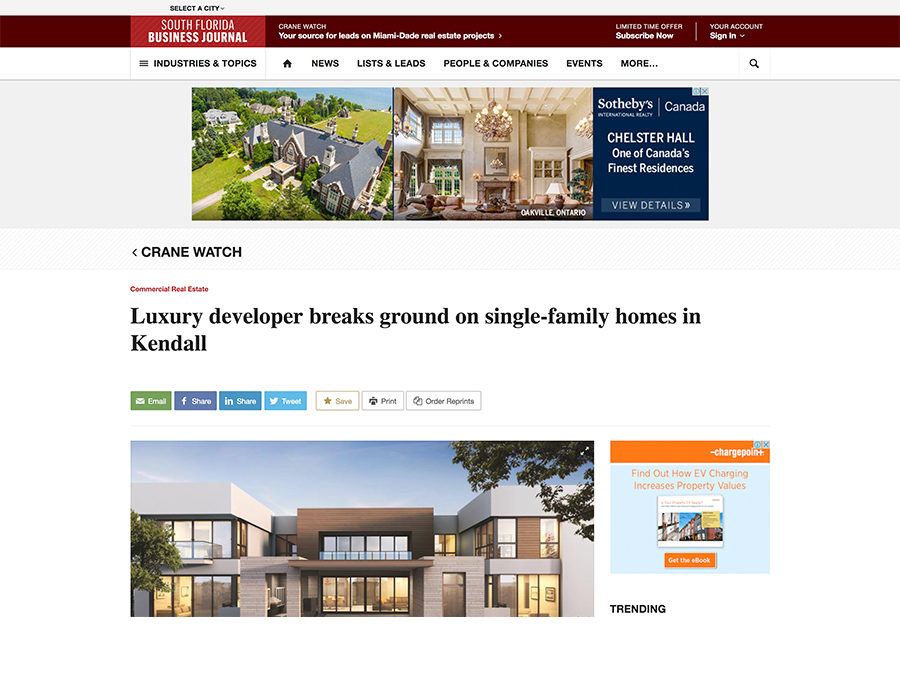 Sabal Development broke ground on its Veridian Grove community in eastern Kendall after securing a $16.22 million construction loan.
Branch Banking & Trust Co. (NYSE: BBT) awarded the mortgage to 8290 Partners LLC, an affiliate of Sabal Development led by Pascal Nicolai. It consists of a $7.72 million acquisition and development loan and an $8.5 million revolving construction loan.
The project is on the 10.2-acre site at 8290 S.W. 120th St., just west of U.S. 1/South Dixie Highway. It's about 15 blocks north of the Falls Mall.
General contractor HMJC Corp. recently started construction of the 20 single-family homes at Veridian Grove, according to county records. Ranging from 6,000 to 6,700 square feet, the homes are priced from $2.6 million. The community will include a clubhouse, pool and wellness center.
"Securing the loan to commence the infrastructure and vertical construction of Veridian Grove has been a momentous achievement for Sabal," Nicolai said. "This represents a significant step for us and we are excited to move closer to bringing this unique innovative development to fruition."