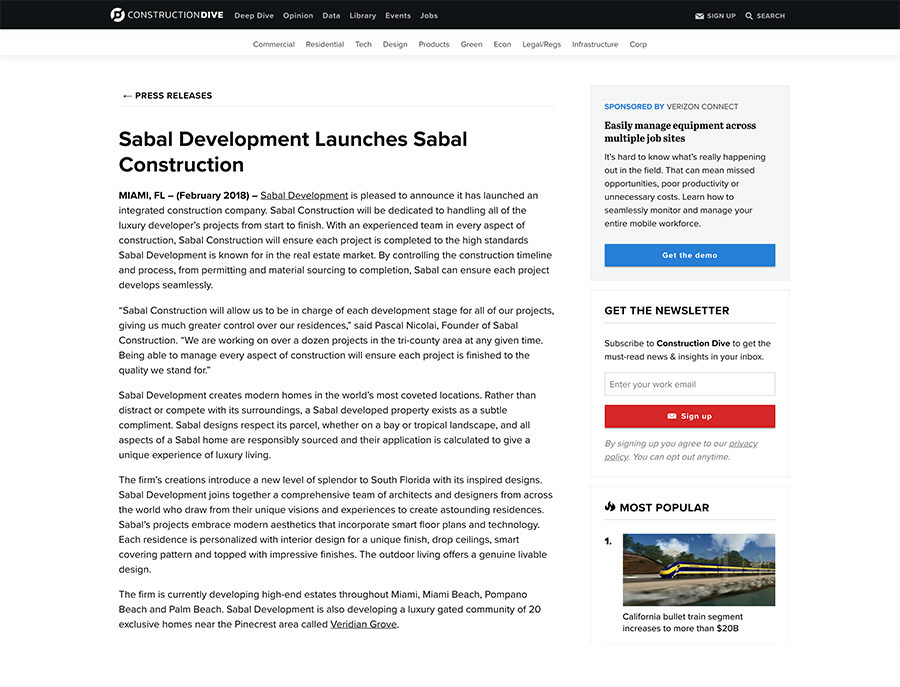 Sabal Development is pleased to announce it has launched an integrated construction company. Sabal Construction will be dedicated to handling all of the luxury developer's projects from start to finish. With an experienced team in every aspect of construction, Sabal Construction will ensure each project is completed to the high standards Sabal Development is known for in the real estate market. By controlling the construction timeline and process, from permitting and material sourcing to completion, Sabal can ensure each project develops seamlessly.
"Sabal Construction will allow us to be in charge of each development stage for all of our projects, giving us much greater control over our residences," said Pascal Nicolai, Founder of Sabal Construction. "We are working on over a dozen projects in the tri-county area at any given time. Being able to manage every aspect of construction will ensure each project is finished to the quality we stand for."
Sabal Development creates modern homes in the world's most coveted locations. Rather than distract or compete with its surroundings, a Sabal developed property exists as a subtle compliment. Sabal designs respect its parcel, whether on a bay or tropical landscape, and all aspects of a Sabal home are responsibly sourced and their application is calculated to give a unique experience of luxury living.
The firm's creations introduce a new level of splendor to South Florida with its inspired designs. Sabal Development joins together a comprehensive team of architects and designers from across the world who draw from their unique visions and experiences to create astounding residences. Sabal's projects embrace modern aesthetics that incorporate smart floor plans and technology. Each residence is personalized with interior design for a unique finish, drop ceilings, smart covering pattern and topped with impressive finishes. The outdoor living offers a genuine livable design.
The firm is currently developing high-end estates throughout Miami, Miami Beach, Pompano Beach and Palm Beach. Sabal Development is also developing a luxury gated community of 20 exclusive homes near the Pinecrest area called Veridian Grove.